Anna Stein­kog­ler &
Valen­tin Butt
From the very first moment they made music tog­e­ther, ban­do­neo­nist Valen­tin Butt and har­pist Anna Stein­kog­ler felt a strong musi­cal bond, and the exci­ting desi­re to crea­te some­thing power­ful, ent­hral­ling and inten­se­ly emo­tio­nal tog­e­ther. Sin­ce then they have con­ti­nued to deve­lop new per­spec­tives tog­e­ther.
True musi­ci­anship and dedi­ca­ti­on are the key to their own com­pel­ling arran­ge­ments. They are cer­tain­ly not loo­king for imi­ta­ti­on, but the crea­ti­on of new colours, fric­tion and ten­si­on. The dif­fe­ren­ces bet­ween the per­so­na­li­ty of both musi­ci­ans and instru­ments seem to blend into each other on sta­ge, yet they mana­ge to main­tain both extre­mes at all times. Their music is an orga­nic and refres­hing take on the encoun­ter of the well-known and the new.
Harp and ban­de­on — a per­fect com­bi­na­ti­on?
The ans­wer cer­tain­ly is 'Yes!' Who would­n't be sur­pri­sed to find out how soft a ban­do­ne­on can actual­ly sound, and that a harp is not limi­ted to play­ing glis­san­di?
Whe­re­as most peop­le would assign the attri­bu­tes dark, com­pact, earth­ly and melan­cho­lic to the ban­do­ne­on wit­hout hesi­ta­ti­on, and descri­be the harp as rather filigree, ethe­re­al and oscil­la­ting, Anna Stein­kog­ler and Valen­tin Butt like to switch roles! The­re is much more to it!
Like two cha­me­lons, they adapt to each other — only to break apart again a few bars later and enjoy the strong con­trasts of high and low, gent­le and brisk, dark and light. You will come to the con­clu­si­on that the­re is much more the­se instru­ments have in com­mon than you thought!
Valen­tin Butt
Valen­tin Butt, born in Saint Peters­burg, stu­di­ed at the Hoch­schu­le für Musik Hanns Eis­ler Ber­lin. He was awar­ded several pri­zes and natio­nal and inter­na­tio­nal com­pe­ti­ti­ons and is a regu­lar guest at fes­ti­vals all over the world. He has worked with the Ber­lin Phil­har­mo­nic Orches­tra as well as with big thea­tres in Ber­lin such as the Schau­büh­ne, Ber­li­ner Ensem­ble and the Deut­sches Thea­ter as a musi­ci­an, com­po­ser and musi­cal direc­tor. He also par­ti­ci­pa­tes in radio plays and film music record­ings and is a mem­ber of several bands such as SkaZ­ka Orches­tra, Hol­ler my Dear and Di Meschu­ge­les.
Anna Stein­kog­ler &
Liam Mal­lett
Flu­te and Harp — or the light­ness of being. This com­bi­na­ti­on of instru­ments has been bles­sed throughout the ages with music full of ele­gan­ce, fines­se, and grace by com­po­sers all over the world. Liam Mal­lett and Anna Stein­kog­lers' reper­toire is full of diver­se colours and sounds, mea­ning­ful and yet floa­ting melo­dies.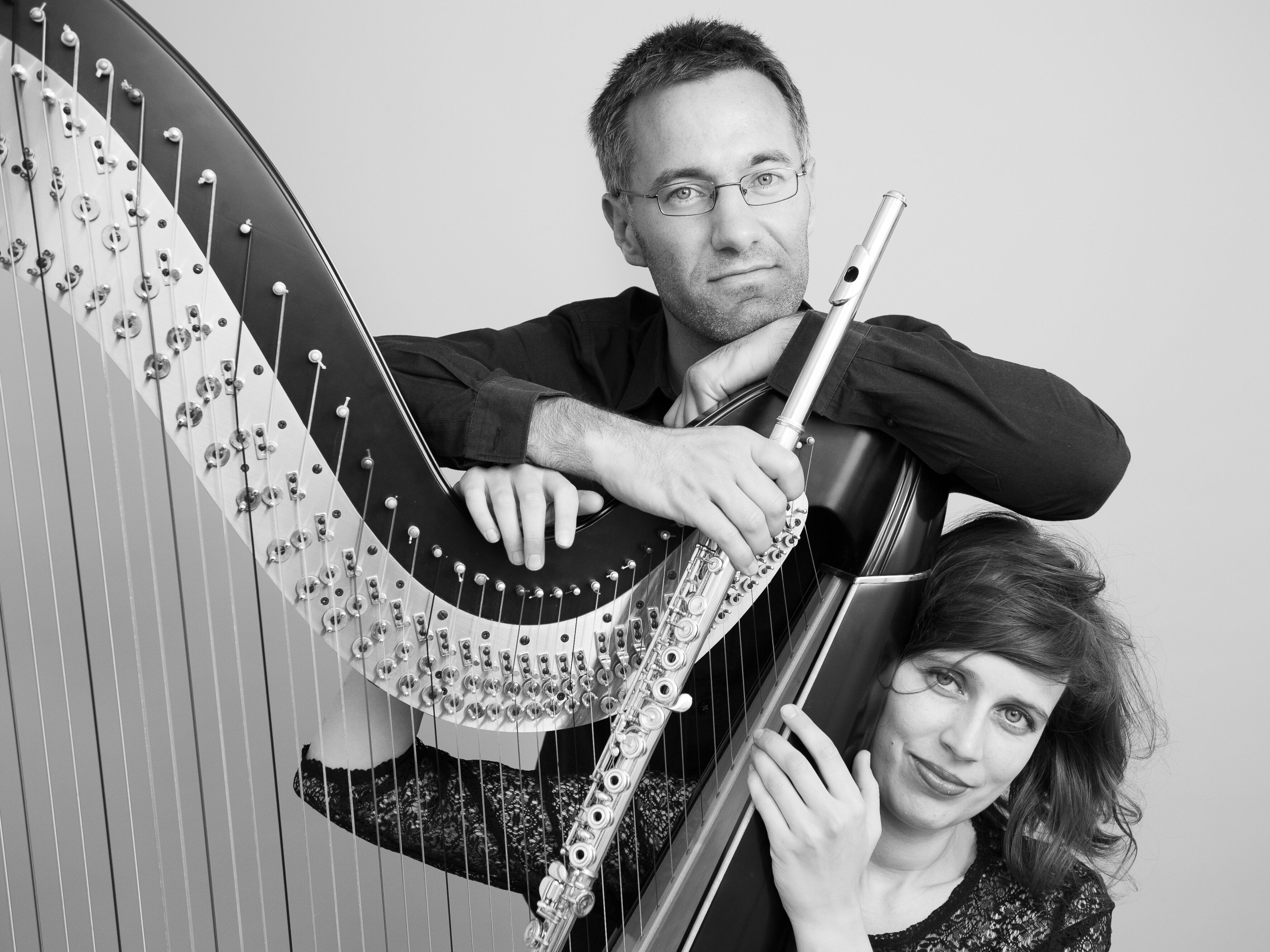 The musi­ci­ans are united by the con­vic­tion that cham­ber music is a timeless art form that needs to be pro­mo­ted and expe­ri­en­ced live in order to sur­vi­ve. Like muse­um cura­tors they choo­se their pro­gram­mes with gre­at care, and gui­de their audi­en­ces through con­certs with a mix of charm and wit. Pana­mour are espe­ci­al­ly inte­rested in the jux­ta­po­si­ti­on of epochs and styles, crea­ting a rich­ness of colour and tex­tu­re that allows both the flu­te and harp to shi­ne.
Liam Mal­lett
Liam Mal­lett, Neu­see­land, stu­dier­te Flö­te an der Uni­ver­si­ty of Auck­land bei Uwe Grodd, der Hoch­schu­le für Musik Frei­burg bei Felix Reng­gli und schloss sein Stu­di­um in Ber­lin an der Uni­ver­si­tät der Küns­te bei Ros­wi­tha Sta­e­ge mit dem Kon­zert­ex­amen ab.
Es folg­ten 1. Prei­se beim Kon­zert­wett­be­werb der Musik­aka­de­mie Basel und dem Strat­ford Upon Avon — Flö­ten­wett­be­werb (GB).
Aus­ser­dem gewann er den 2. Preis der Jeu­nesse Musi­ca­le in Bel­grad, Ser­bi­en. Als Kam­mer­mu­si­ker und Solist trat er auf der gan­zen Welt auf; beson­ders Tour­ne­en nach Nord­ame­ri­ka, Mexi­ko und die Ukrai­ne lie­fer­ten wich­ti­ge Impul­se.
Er arbei­tet mit Orches­tern wie der Came­ra­te Bern, den Göte­bor­ger Sym­pho­ni­kern, dem New Zea­land Sym­pho­ny Orches­tra, der Komi­schen Oper Ber­lin, der Kam­mer­aka­de­mie Pots­dam, dem NDR Han­no­ver und der Staats­oper Han­no­ver.
Zur­zeit ist er Flö­tist an der Komi­schen Oper Ber­lin.
Liam Mal­lett ist Grün­dungs­mit­glied des Zafra­an Ensem­bles für Neue Musik, mit dem er neben zahl­rei­chen Kon­zer­ten und CD-Pro­duk­tio­nen auch Musik­thea­ter ent­wi­ckelt.
Bar­tok, Rumä­ni­sche Volks­tän­ze
Bert­ho­mieu, Cinq Nuan­ces
Bizet, Car­men Sui­te
Cou­pe­rin, Le Ros­si­gnol en Amour
Debus­sy, En Bateau
Elgar, Salut d'A­mour
Fau­ré, Fan­tai­sie Op. 79
Fau­ré, Sici­li­en­ne
Got­kovs­ky, Eolièn­ne
Ibert, Ent­r'ac­te
Jon­gen, Dan­se Len­te
Marais, La Folia
Mol­nar, Phan­ta­sie über japa­ni­sche Volks­lie­der
Piaz­zol­la, His­toire du Tan­go
Ros­si­ni, Andan­te und Varia­tio­nen
Rust, Sona­te
Satie, Gym­no­pé­die
Sibin­ga, Trois Images
Shankar, L'Au­be Enchan­tée
Tak­e­mit­su, Towards the Sea
Anna Stein­kog­ler &
Lucie Del­haye
Lucie Del­haye and Anna Stein­kog­ler are both con­vin­ced that the­re is still much to be done for their beloved instru­ment when it comes to pro­mo­ting the harp bey­ond well-known cli­ches. When per­forming as soloists, both per­for­mers were often struck by the audience's sur­pri­sed reac­tion to the harp: the­re is so much more to it than ange­lic ethe­re­al sounds!
Reper­toire, ampli­tu­de, sono­ri­ty, play­ing tech­ni­ques and colours are much more diver­se than expec­ted.
Inspi­red by the many ques­ti­ons they often have to ans­wer after a solo reci­tal, and the posi­ti­ve sur­pri­se and inte­rest they awa­ken in their audi­ence, Lucie Del­haye and Anna Stein­kog­ler set them­sel­ves two goals when star­ting to work tog­e­ther.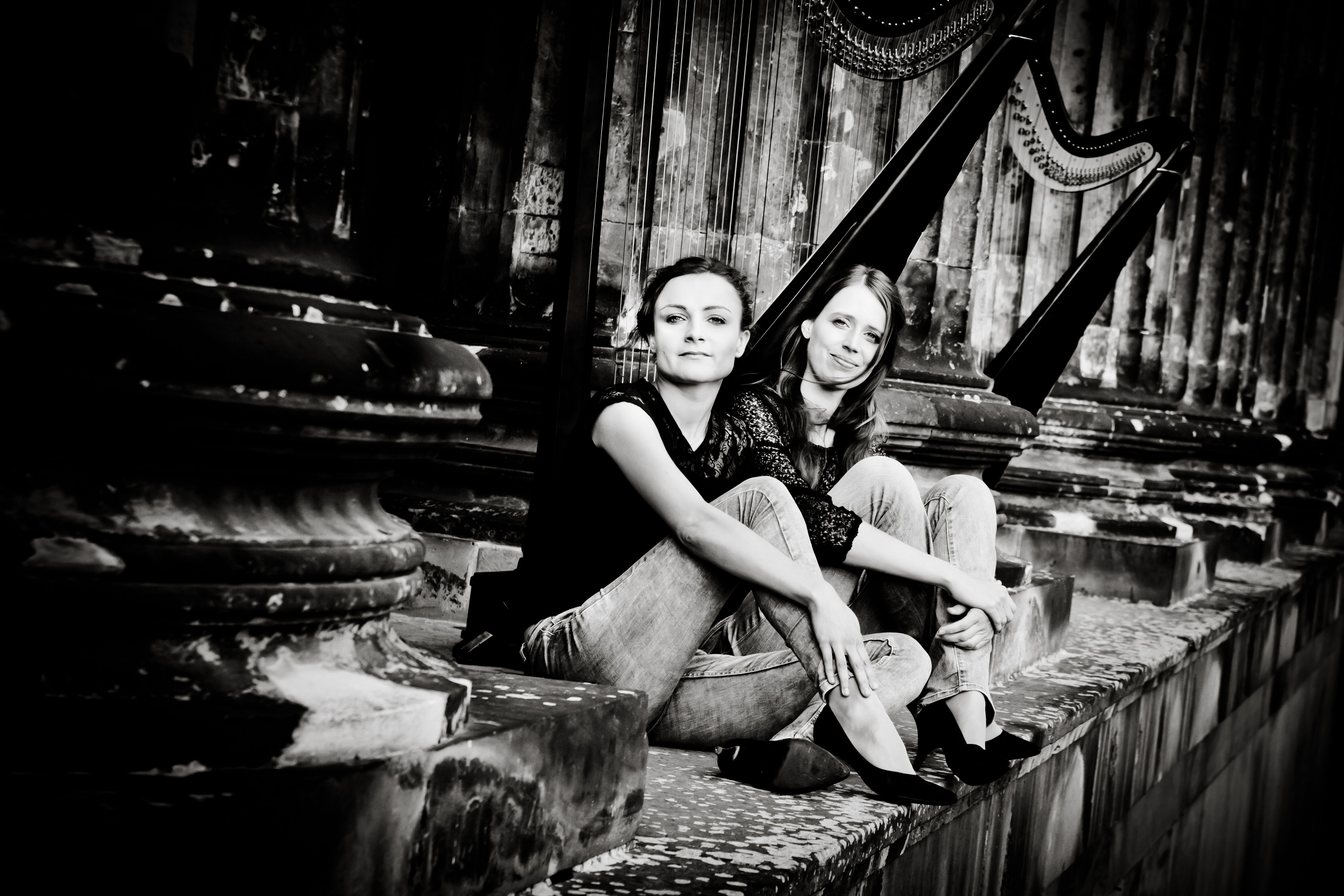 On the one hand: play­ing cham­ber music at a very high level and enjoy­ing the gre­at pos­si­bi­li­ties of reper­toire that open up when com­bi­ning two harps, which is like mer­ging two cham­ber orche­s­tras into one big sym­pho­ny orches­tra.